Kaldbaks-kot, cottage number 15, February 23rd 2020. A good idea might be to start this page describing the view that one can enjoy from the window of the pretty little room where I will spend the night, but the problem is that there is not really much to see. A wall of snow almost as tall as the cottage itself makes barely room for a tiny strip of sky on the top. This strip is blue, and it is better I hurry to write that, because soon a cloud may have stained it, adding even more white to the picture I can admire while lying on my bed. We can safely say that it is not a chromatic rhapsody. The only slight variation of color in this artwork is given by the shadow that darkens the sinuous cavities produced by the wind in the wall of snow, which someone with good imagination could compare to certain walls of sedimentary rocks. If instead of snow all of this was sandstone, I could write that I am in a red canyon of Arizona, but this is actual snow, and it is white, and I am in Northern Iceland, in the slice of Iceland that gently slopes in the east side of Skjálfandi bay.
My cottage and the bay are separated by two artificial lakes, completely frozen, small depressions on which the fresh snow, raised by the wind, glides at great speed, forming highways of white smoke leading nowhere. In the summer, more than 90 different species of birds hang out by the lakes, and the small veranda in front of my cottage, where I moved looking for different colors (in vain, the sky now is totally white), is coveted by ornithologists of all sorts. In wintertime, a little bit less: birds and their admirers have better things to do, hence this and the other 17 wooden cottages of Kaldbaks-kot (from the name of a pre-existing farm, which in turn bore the name from a mountain toponym that can be translated as "shelter from the wind") remain almost unused for several months, with the courtesy binoculars peacefully stored in their cases and the picturesque entrances buried by the snow.
In order to shake things up, a few days ago the 68-year-old Sigurjón Benediktsson, owner, builder and manager of the whole facility, decided to launch a unique promotional offer: anyone capable of making his way through the snow and reaching one of the cottages could have spent a night there for free. The hotels in Húsavík town, which is less than three kilometers away from Kaldbaks-kot, have very competitive rates in the winter season, but Sigurjón aimed at an offer "impossible to beat", as he explained me when I met him this morning, in the last parking spot before the cottages area, just before he wished me good job. He would have helped me, moved with compassion by my goodwill (to date, I am the only one to have accepted his challenge), but he claims that since he got heart surgery he has been prevented from doing two chores in particular: vacuuming home and shoveling snow. I should have made the best of his encouragement and of Ösp's hearty welcome. Ösp is the Icelandic sheepdog who keeps Sigurjón company, and whom he decided to call like a tree: ösp means in fact "poplar".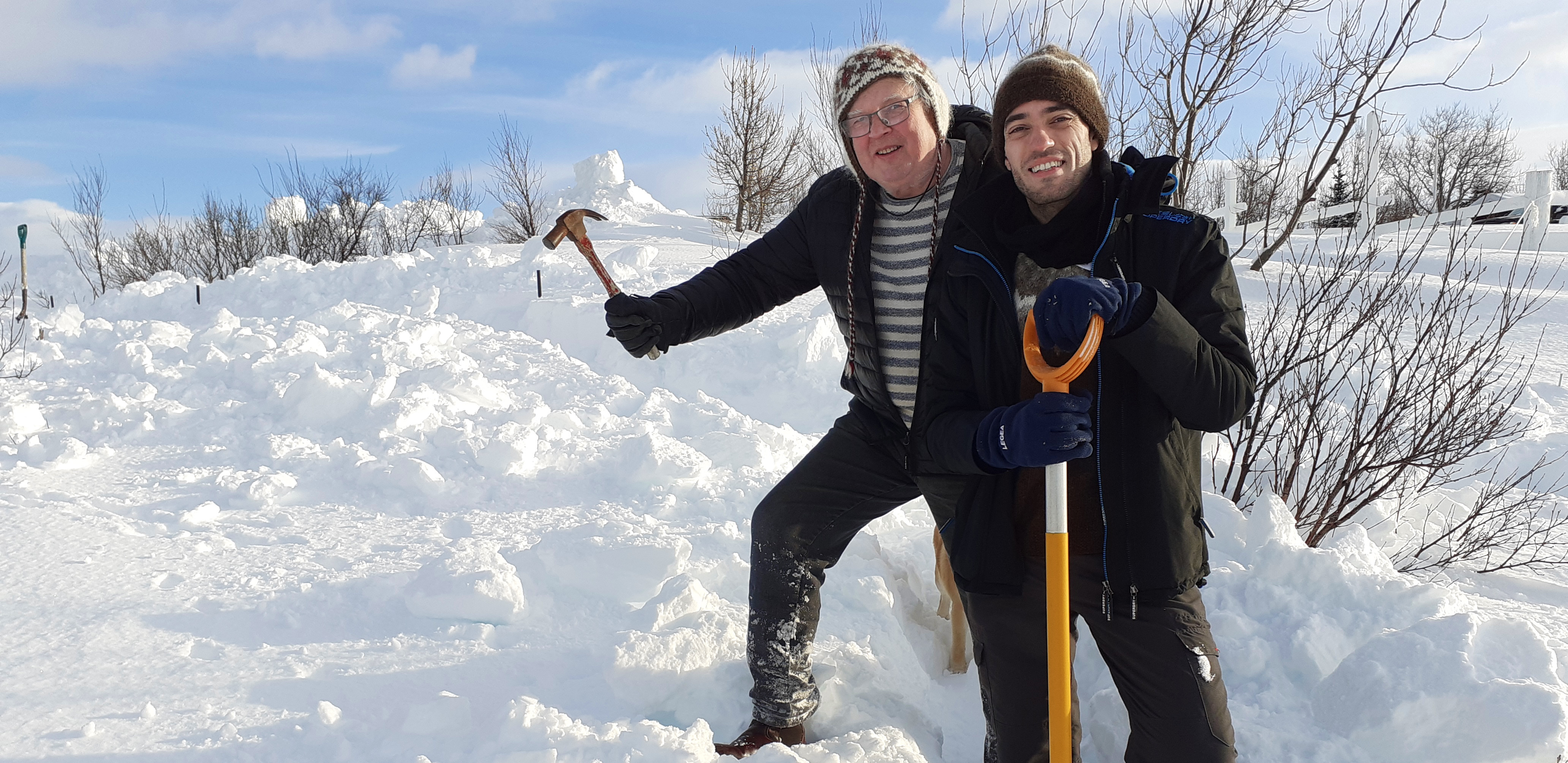 From the veranda I proudly admire the tiny road that I have dug in about two and a half hours of shoveling, a time close to eternity for someone born and raised in the middle of the Mediterranean Sea. The snowfalls expected in the next days will soon make my road unusable, but today it is fully walkable. The side walls are no more than half a meter in height, this was all the depth I needed to dig out in order to reach a layer of snow so compact that is safe to walk on. I'm not sure about how much snow there is still under my road's surface; probably a lot. In this area it snows more than in town, although the landscape in front of me is not uniformly white, after all. The reason are the trees, which sprout everywhere between the cottages: Sigurjón and his late wife Snædís had planted over two hundred thousand willows, birches and poplars since they arrived here in 1977. While the sunset coats in silver the skinny branches, another bizarre similarity comes to my mind: some glimpses of Kaldbaks-kot look almost more like Canada than "usual" Iceland.
With the sun gone, the -5°C temperature begins hammering on my red nose and my sore hands, so I decide to go back inside. In a couple of hours there will be only darkness and silence around here. Ösp has already completed her evening recon, and some time has passed since the last snowdrift crashed down from the roof. Inside this cottage there is not even a clock like the one in The fish can sing, which according to Halldór Laxness «ticktocked a four syllable word, et-ern-it-y, et-ern-it-y». After I will have turned off the heater and stopped the flow of geothermal water that will keep my room warm, a long pause of calm will start, the very reason why I accepted Sigurjón's offer: a well-deserved night of solitude, during which absolutely nothing will happen to me.
Leonardo Piccione is a writer of stories of people and places that stand out. His book Il libro dei vulcani d'Islanda was published in Italy by Iperborea in 2019.
The Húsavík Cottages are located just south of the town of Húsavík, and are open in for everyone in summer, and for the adventurous in the wintertime.
Writer @ledep accepted the strangest offer, a free winter time stay at Húsavík Cottages in exchange for shoveling his way to the hut. https://t.co/S0WJexDF73 pic.twitter.com/u6RsTuE51i

— Húsavík Observer (@HusavikObserver) February 25, 2020